The Best Way To Meal Prep
One of the absolute best ways to lose weight and achieve results fast is definitely meal prepping. I never used to meal prep until I competed in my first show.
I soon realized how spending 1 to 2 hours on a Sunday afternoon before the week started is well worth it.
Think about it, if you could spend 2 hours to have healthy meals all week.
In return never having to think during the week where and what you are going to eat, would you? My 7 Day Meal Prep Recipes I think personally are the number 1 reason for my results.
Sure these already prepped meals will not taste as good as a fresh burger or french fries. Your goal is to lose weight and get in shape though.
Having those meals already prepped in front of you makes it much easier to stay away from heading over to somewhere unhealthy. I would like to share in this article how I usually prepare my meals and what I usually used to keep it cheap and still healthy.
.
FOODS THAT ARE CHEAP AND HEALTHY FOR MEAL PREP
The goal for meal prep is to have a good source of Protein, Carbohydrates, Healthy Fats and vegetable.
Let's talk about protein first.
The Three best options in my opinion are Eggs, Chicken Breast and Tuna. You want to look for sales on Chicken Breast and stock up when they are. You can always freeze a bunch. If you do this then all three options can be found at a very affordable price.
The next 7 Day Meal Prep Recipes food source is Carbohydrates.
Carbs are cheaper than Protein and can be bought in bulk. I recommend Oatmeal, Brown Rice and Quinoa. There is no excuse here because they are so cheap.
You can buy enough Oatmeal for Five Dollars to last you 3 or so weeks. I've also purchases Brown Rice and Quinoa in a large bulk size online. They lasted me for a whole month and wasn't that expensive.
When it comes to healthy fats I prefer an All Natural Peanut Butter. You need to look at the ingredient label and look for just one ingredient…Peanuts!
Some Peanut butters are loaded with sugar believe it or not. I recommend Laura Scudders, for around Five dollars this can last you a month. So between your carbs and fats that is extremely cheap.
Vegetable thankfully are cheap and you can eat unlimited amounts.
You can buy a large bag of Broccoli for only Five dollars that will last you the whole week. So if you're on a budget and still to these food sources you will be just fine.
.
WHICH CONTAINERS ARE THE BEST TO USE?
The way you are storing these foods is just as important as cooking the food.
These have to be air tight containers so nothing spoils.
One option is to buy Mason jars in bulk at like Costco, Amazon, or Target. You can get 12 of them for around Twelve dollars. The other option is Tupperware which is very cheap and easy to pack foods in.
I highly recommend just going on Amazon and you will see they have Tupperware designed for meal prep already.
Another thing you want to keep in mind is making sure your containers are microwave save and OK to put in the freezer. Either option is great when it comes to Mason Jars vs Tupperware but I have found Mason jars are more airtight.
Another great option is what are called 6 pack Fitness bags. This will cost you a little more but I think it's well worth it.
.
HOW LONG CAN YOU STORE THESE FOODS FOR?
One thing I recommend and I always to before storing the food is letting it cool down. Do this before you transfer the food to the containers but also don't let the food sit out for a few hours.
If you are doing this and you make sure the food is sealed properly and stored in the fridge. The foods can stay good up to seven days after you initially store them in the fridge.
I pick my foods I meal prep based on price, nutritional value and also one that can generally stay better longer stored.
You can make these foods last all week if you want. Although if you want them to taste a little better and fresher you may want to meal prep 2 times a week.
Another option is to freeze the foods if you cook too and don't think you be able to get to eat it before it goes bad.
When freezing your food, just make sure it cools down just as if you were placing it in the refrigerator. When you are ready to consume your frozen meal prep.
The two options would be to let them sit overnight in the refrigerator or thaw in microwave.
.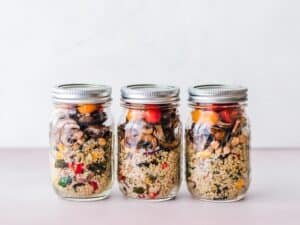 WHAT ARE SOME GOOD MEAL PREP RECIPES?
This isn't going to be the full recipes since I will be writing a few blogs specifically on recipes ingredients and how long to cook.
I just want to give you a good idea here of what some ideas with the Protein, Carb, Fat and Veggie combos and what's an easy way.
This is much easier if it is your first time meal prepping.
My go to meal since it is relatively cheap and easy to prepare is with Ground lean Beef, Brown Rice, Avocado and Veggies.
From start to finish you can have all this done in 15 minutes.
I always add in Salt free Taco Seasoning to the Beef and it tastes great. Cook a pound of two of the beef and a bunch of rice at once and you're basically done.
Another great option and rather tasty is boiling a bunch of Sweet Potatoes.
Bake some Chicken with the Sweet potatoes and add in some Avocados. If you're not on a budget you could substitute Salmon and bake that as well. Another fish protein source much cheaper would be Tuna.
Some people I see compete just eat tuna right out of the can with Mustard.
.
FINAL THOUGHTS ON MEAL PREP
I hope you found some of this information useful. One thing to keep in mind is everyone has different goals, so calories will be different.
If you really want to get technical you can measure your calories so you don't have to think about this during the week.
If you give this a try for a few weeks I promise you will be happy you did. You have to try prepping for more than 1 week though. The reason for this is that your first time it's going to take you a bit longer and you will probably mess something up cooking.
Once you get the hang of it and find healthy foods that are easy to prep it becomes addicting.
You will also be saving in your bank account.
I challenge you to add up all the money you spent on the meal prep. This might even be cheaper than the 2 Starbucks Frappuccinos people get each day!
" Fail to prepare, prepare to fail"
Please follow and like us:
---
---