Let me first start off by saying this Protein is not good. The reason I say this is because it is GREAT! Here I am 20 years into the Fitness and Nutrition industry and I have finally found my Favorite Protein Powder.
When it comes to my Pro Jym Protein Powder Review it is hard because I really have nothing bad to say about it. Picking a good Protein is very tricky because there are so many different forms and you don't know who to trust or believe.
Manufactures of Supplements often cut corners because a good high quality Protein Powder is pricier for them. They have a few tricks like spiking the protein to manipulate the test used to measure how much protein there is.
Then there is the wording that can be extremely tricky. I used to just buy Protein Powders based on all the fancy wording and graphs on the labels.
You may see..Whey Protein Isolate BLEND.
.
.
The key word is blend because there might be a majority of low quality blended in but they advertised it as Isolate. Isolate being the highest quality and in return will cost the most for them.
It sure would be amazing if every supplement company had to disclose what percentage Of each Protein or ingredient is in their product.
But wait….Someone Does!!!!!!!
That would be none other than Dr Jim Stoppani who is the sole creator of Pro Jym and many other high quality supplements. He discloses the EXACT amount of the different forms of protein in PRO JYM.
.
.
.
.
WHY IS PRO JYM THE BEST PROTEIN ON THE MARKET
The 2 main reasons are the Quality of Ingredients and the Effectiveness of these ingredients for building muscle and Losing Weight. This is the perfect Protein blend for Growth, Strength, Energy, and Recovery.
BLENDS ARE BEST!
Pro JYM's 3 types vary how they are absorbed into the body…
Whey extremely fast
Casein very slowly
Egg at a medium pace.
After a great workout this is what you need with the Whey so your muscles get instant supply of Amino Acids. Amino Acids are the building blocks of Protein by the way. With the Egg and Casein the medium and slow absorption has you covered for later!
When you combine the Fast digesting Whey with the Medium and slow, Protein Synthesis will stay elevated for longer vs only using Whey.
PROTEIN SYNTHESIS: The Process in which cells make Protein.
.
.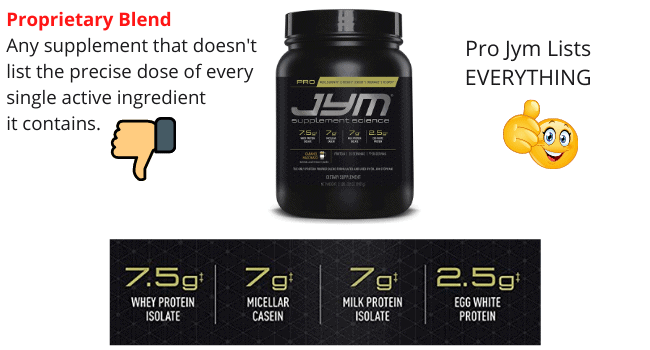 .
 As you can see by the photo above, there is nothing hidden or sneaky about Pro Jym. I fell for so much creative marketing in the past and bought products with cheap ingredients.
This is exactly why I don't bother with anyone else other than Jim Stoppani's Supplement line. I know what I'm getting with him.
PROTEIN SPIKING: Also knows as Amino Spiking is a way of some supplement companies to put in less Protein than what they are advertising on their label.
This will increase their profit margins and most will never even be caught. An example would be the label saying 20 grams of protein but you are really only paying for 15.
Pro Jym you get what you are paying for and will never run into cheap fillers or spiked products! You are guaranteed to get what you think you are really getting.
Here is a short video explaining why these proteins are chosen
.
.
WHAT ARE THE INGREDIENTS AND HOW DOES IT TASTE
I have not tried all his 8 Flavors but the few I tasted were absolutely AMAZING! Especially when I mixed it with Sugar Free Almond milk. It's exciting when you find something so healthy for you while tasting amazing.
I have multiple protein shakes every day, and I want it to taste great. With Pro JYM, just as much attention is paid to flavor as the protein blend formula. I want to mix my protein in water or milk and have it literally tastes like a milkshake.With Pro JYM it does!
You can see how each Flavor has been rated by actual consumers on Bodybuilding.com HERE. I have listed them below for you. There are also almost 3 Thousand reviews at the time I'm writing this on Pro Jym, with and average rating of 9.2!!!
Chocolate Cookie Crunch 9.0
Chocolate Mousse 7.3
Chocolate Peanut Butter 8.4
Cookies and Creme 8.5
Rocky Road 9.0
Smores 9.3 (

MY favorite and the one I usually order BTW

) Get it

HERE

Tahitian Vanilla Bean 8.5
Vanilla Peanut Butter Swirl 9.7
.
.
.
.
Ingredients: Protein Blend (Whey Protein Isolate, Micellar Casein, Milk Protein Isolate, Egg Albumen), Nondairy Creamer (Sunflower Oil, Corn Syrup Solids, Sodium Caseinate, Mono- And Diglycerides, Dipotassium Phosphate, Tricalcium Phosphate, Soy Lecithin,Tocopherols), Natural and Artificial Flavors, Dehydrated Marshmallow Bits (Sugar, Corn Syrup, Modified Cornstarch, Gelatin, Sodium Hexametaphosphate, Artificial Flavor, Natural Flavor, Artificial Color (Blue #1)), Cocoa Powder (Dutch Process), Guar Gum, Sucralose, Lecithin, Acesulfame Potassium, and Silicon Dioxide.
Directions For Pro Jym: Mix each scoop of Pro JYM in 6 ounces of water for best texture and taste. Consume 1 scoop within 30 minutes after workouts. Also consider taking 1 scoop when you first wake up each day and before going to bed for maximizing lean muscle mass gains. You can also consume 1 scoop between regular meals.
.
Let's take a look at the other import stuff like Fat, Carbohydrates,  and Cholesterol per serving.
.
CARBOHYDRATES: 6-8 Grams Depending on which flavor you choose. Generally I see 3-5 grams with some top selling protein brands. Although I personally prefer a little more because Carbs are your energy and your body needs them for recovery. Your body's glycogen stores are used as fuel during exercise, and consuming carbs after your workout helps replenish them.
.
FAT: 3-4 Grams depending on which flavor. Very average compared to most of the big name brands. I've always tried to stay under 5 grams as a rule of thumb.
.
CHOLESTEROL

:

15 mg in all the flavors. I find this pretty impressive when you consider all the different ingredients Pro Jym has. To keep it this low is why I love all his supplements. I normally see around 40mg in top selling proteins.
.
POTASSIUM: 115-270 mg. Nothing to worry about here since Potassium has many great benefits. Low Potassium is associated with a risk of high blood pressure,heart disease, stroke, arthritis, cancer, digestive disorders and infertility
.
SODIUM: On average you will find around 200mg. The American Heart Association recommends no more than 2,300 Mg a day. Adults ideally no more than 1,500 mg a day. So you should have no problem with 1 or 2 shakes a day going over combined with healthy meals.
.
CALCIUM: Around 425 mg on average. I like how there is a good amount because we all know how important Calcium is for our bones.
.
Fat and Cholesterol are really the 2 I watch out for most when selecting a Protein Powder. I also make sure there is a good amount of Protein overall. In Pro Jym all the boxes are checked!
.
.
.
Now Lets take a look at the different Proteins in Pro Jym and what they are…
.
WHEY ISOLATE (7.5g) Often confused with Whey Concentrate. Both have high amounts of protein in general. Although Whey Protein Isolate has 90% protein content, vs whey protein concentrate with as much as 80% or as little as 35%.
The main difference is because isolate goes through a more intense filtering process. In return slightly smoother texture. Concentrate can become chalky and gritty.
I go with Isolate over Concentrate because you really never know what is in the other 65-20% of whey protein concentrate!
.
MILK PROTEIN ISOLATE (7g) Milk protein isolate's total protein content is at least 90 percent with less than 3 percent fat, very few carbohydrates and almost no lactose, Very similar to fresh milk, the ratio is 80% Casein and 20% Whey.
Unlike the liquid form you buy at your local grocery store, milk protein isolate is filtered to remove the lactose, which creates a purer and leaner Protein.
On average, it has less than 3% fat, over 90% protein,
.
MICELLAR CASEIN (7g) This is the slow digested protein which benefits you later on. I The protein molecules in Casein are digested very slowly. I usually take a Casein before bed, so you can always do a Pro Jym before bed.
Build muscle while sleeping!!
.
EGG WHITE (2.5g) AKA "Egg Albumen". The Egg White contains very little fat and NO CHOLESTEROL unlike the Yolk.
The White is over half the weight of the egg making it and excellent source of Protein. For those of you who do not tolerate dairy, this is perfectly fine with no lactose.
.
.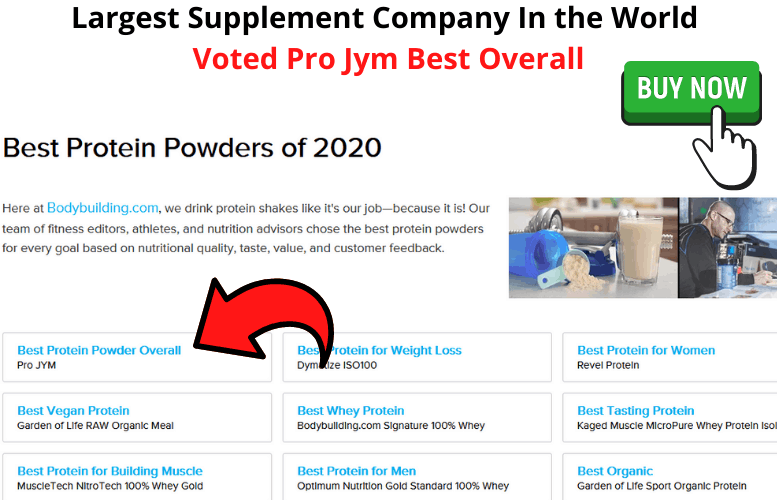 .
.
PRICE BREAKDOWN & MIXABILITY/EFFECTIVENESS
For a 4 lb container of Pro Jym the price is $56.98 at the time of writing this. In the Smores Pro Jym I order there are 47 servings with 24 Grams per serving.
47 Servings X's 24 Grams of Protein =1,128 Grams total of Protein in a 4lb size
This comes out to 5.05 cents per gram of Protein. Sure you may be able to find cheaper Proteins out there. I can guarantee you though, you will not find a better quality Protein. The old saying "You get what you pay for" is so true.
In general 5 cents per gram of protein is pretty standard but standard price with higher quality. In general Whey Protein Isolate is the most expensive if you buy it all by itself.
Pro Jym has more Whey Isolate than anyone other Protein included.
This is just a little over $1.00 Dollar for a serving. Think about how much you would pay at the jym or smoothie shop for one to be made for you. Most likely around $5.00.
So that's right there is a no brainer!
I wish more people would really take a look at the overall monthly cost of buying Protein and making your own shake vs having one made for you.
If you go to the gym 5 days a week and purchase one made for you, that is $100.00 a month. Buying Pre Jym will only cost you around $25.00 a month!!
.
MIXABILITY: I have yet to try all the flavors but from the 3 I have ordered, it is one of the easiest Proteins to mix I have ever tried. After only 10 seconds of shaking vigorously you should be fine.
I didn't have any clumping and was extremely happy with the ease of mixing compared to some I have had to break clumps up and mix more than one.
EFFECTIVENESS: After having taken Pro Jym constantly for 3 months I've noticed great results. Sure this could all be in my my head but even if it was I'm still seeing LOTS of MUSCLE GAINS and staying leaner than before.
I have found it easier and more motivating to workout knowing this Protein has such quality ingredients to maximize all the hard work I'm putting in the gym.
.
WHO IS THE MASTERMIND INVENTOR BEHIND PRO JYM
His name is Dr Jim Stoppani
In my opinion he is the most knowledgeable person in the supplement industry. Dr Stoppani has been studying nutrition and supplement science both in the lab and in the gym for decades. Jim has taken all his years of research and turned it into results for millions of people.
Originally Dr Stoppani started educating men and women interested in Fitness and Nutrition through the top magazines known in the industry like Muscle & Fitness, Muscle and Hers, and FLEX.
He soon joined forces with the largest selection of fitness articles, exercises, workouts, and supplements in the world. Also, creating his own website JimStoppani.com
Why did he Create Pro JYM?
Dr Stoppani was fed up with seeing nothing but whey-only protein powders. Now consumers have an ideal protein blend to maximize gains in size, strength, and even fat loss.
Just how smart is he?
Dr. Stoppani received his doctorate in exercise physiology with a minor in biochemistry from the University of Connecticut.
Following graduation, he served as a postdoctoral research fellow in the prestigious John B. Pierce Laboratory and Department of Cellular and Molecular Physiology at Yale University School of Medicine, where he investigated the effects of exercise and diet on gene regulation in muscle tissue.
In 2002, Jim was awarded the Gatorade Beginning Investigator in Exercise Science Award by the American Physiological Society for his groundbreaking research.
Dr. Stoppani has authored or co-authored several books, including the Encyclopedia of Muscle & Strength (Human Kinetics, 2006); the New York Times Bestseller LL Cool J's Platinum 360 Diet and Lifestyle (Rodale, 2010); and Stronger Arms & Upper Body (Human Kinetics, 2008).
The Rock
LL Cool J
Dr Dre
Mario Lopez
Dr. Stoppani has also been the personal nutrition and health consultant for all 4 of these celebrities and many more.
.
CONCLUSION
Overall Pro Jym you will find to be a little pricier than other Proteins. When doing the research like I have for many hours you will soon realize it is totally worth it! Think of your body like your car, would you want to put cheap products into your car?
If you think about it, how much more is a months supply of Pro Jym vs a cheaper and less quality Protein. I would say maybe $10 more on average. Is saving Ten dollars overall a whole period of a month really worth it vs the benefits of this extremely high quality and effective Protein?
I say…ABSOLUTELY NOT!
If you have the mindset that "Protein is just Protein", then I would suggest doing the research that I have actual studies. Protein is what builds muscle and if you're taking cheap forms which may not even have what they say on the ingredient label. I can guarantee you're not going to have the results you would with Pro Jym.
You also don't have to buy more than 1 Protein. I used to buy a Whey Isolate for around the same price as Pro Jym along with a Casein Protein. With Pro Jym it's an ALL IN ONE!
Please leave me a comment on your results or any questions you may have about Pro Jym!!
Also if you're interested in starting your own online business and leaving the 9-5. You can click on the link below for a FREE WEEK with NO CREDIT CARD information required. Wealthy Affiliate is how I learned everything to become my own boss!
.
.
.